In Year 9 you will be choosing your GCSEs or Level 2 equivalent vocational qualifications such as BTEC Certificate/Diploma, OCR/City and Guilds or NVQ/T-Level qualifications.
Teacher Information
CHANGES TO GCSEs
In England, new GCSE courses and exams are being phased in. They have more challenging content and a new grading system. These changes aim to ensure students leave school better prepared for a job or further study
The new GCSEs have a grading system that uses numbers rather than letters. The scale runs from 9 to 1, with 9 being the highest grade. The table below shows how it compares to the A to G grading system that is being phased out.
The standard pass rate in the new system is grade 4. This is the minimum level your child needs to achieve in English and maths, otherwise, they will need to continue to study these subjects up until the age of 18.
Grade 5 is a 'strong' pass – some careers or courses may require a strong pass in certain subjects.
The first exams for the new GCSEs, in English language, English literature and maths, were held in summer 2017.
All GCSE subjects were revised by 2018.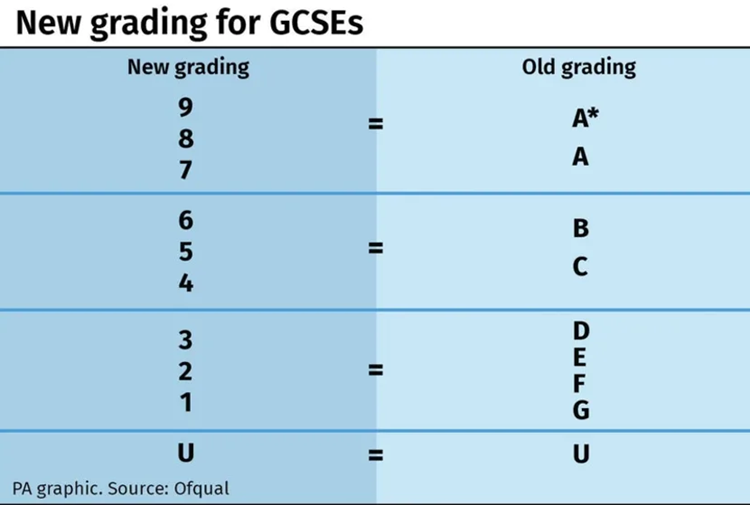 DOWNLOAD THE GOVERNMENT'S GCSE REFORMS FACTSHEET
www.gov.uk/government/publications/gcse-new-grading-scale-factsheets
Why are GCSEs important?
---
For most young people, choosing your GCSEs is the first significant decision you will make about your own education. While your future career may seem a long way off, it's important that you think carefully about your GCSE choices.
The decisions you make now – and the grades you will achieve – can have an impact on what you can do later in life.
For example:
Your GCSE results may affect your options at 16 and beyond – for example which A levels or BTECs you can take.
Most college and university courses, and many jobs, and apprenticeships, require good passes in GCSE English and maths.
Many university courses require a certain number of GCSE passes. Degrees in some subjects, such as medicine, have specific GCSE requirements in terms of the subjects studied, the number of GCSE passes and the grades achieved.
However, if you don't have a clear idea about what you will do in the future, don't worry. Taking a broad range of subjects – including English, maths, sciences, a language and humanities subjects such as history, geography and drama – will help you to keep your options open when it comes to next steps.
So what are GCSEs?
---
These are the general qualifications you will do usually in Y10 and Y11 but some schools start in Y9.
You will choose your GCSE subjects in Year 9 (Y8 in some schools) and then study these subjects until Year 11.
How many GCSEs should I do?
---
Doing up to 9 or 10 subjects is common, but the 'right' number will depend on your academic abilities and whether your teachers have any recommendations. Some children do as many as 12, but this means a bigger workload and more exam pressure, which can, in turn, lead to lower grades overall, so it's important to balance quantity with quality.
GCSEs are assessed by exams taken at the end of the two-year course.
Your school might also offer BTEC or T-Level qualifications in certain subjects which you can take alongside your other GCSE topics.
What subjects can I choose from?
---
GCSEs include subjects:
you have to do - such as English, Maths and Science (core science, double science or triple science).
you can choose to continue with or not - in one option within each of four subject areas, known as 'Entitlement areas; These are

arts, including art and design, music, dance, drama and media arts
design and technology
humanities, for example, history and geography
modern foreign languages
You don't have to take a subject from every area, but taking a broad range of subjects will ensure you have plenty of options later, as you might not be able to take every subject you like – usually because of timetable clashes.
You might also be able to choose courses which are new to you, which might be work-related qualifications - such as health and social care, business and media.
Most GCSEs will be good general preparation for further learning and work so it's not crucial to choose specific subjects to fit with a specific career at this stage.
There are a few things to bear in mind when choosing:
If you are looking for a future career or course in science, health care or medicine then choose double or triple Science.
If you want to have a career in art or design in the future, then choose an arts-focused GCSE.
If you want to deal with customers from other countries or work abroad then a language will be very useful.
Here are some other useful tips on how to and how not to choose your GCSEs.
How do I choose?
Find out what subjects your school is offering. These will usually be advertised on the school website or the school will give you an options booklet.
Find out how the course is assessed. Are you someone who does better in coursework than in exams? If so, some of the vocational [work related] courses might be worth considering.
Trying to choose between two subjects? Think about how each option fits with your other GCSEs. Does a subject go well with your other choices? Or does a subject provide a welcome change? If you're taking lots of science and maths-based subjects, it can be good to include one choice which is essay based.
How not to choose
Choosing a subject because:
You've heard it's easy
Your parents want you to do it
You like the teacher [you may not be in their class]
Your friend says they're doing it! [you might not be in the same class]
What are the most important GCSE subjects?
---
Maths and English are the most important subjects as they are a requirement for most courses, apprenticeships, jobs and university degrees. You will usually need at least a grade 4 and above in Maths and English before you can get into these. With a grade 4 and above in Maths and English, you will have a much greater number of opportunities open to you.
Some sixth forms and most colleges offer a range of Maths and English courses for students who need to retake one or both of these subjects after 16.
Good to know...
All young people up to the age of 18 are currently required to retake GCSE maths and English until they obtain a grade 4 or above, so it will be a big advantage if you get the grades the first time!
Teacher Information
GCSE Choices
Does your child have a particular education or career goal in mind – such as a specific university degree? If so, check some university websites together to find out whether there are any specific GCSE requirements.
If they don't have a firm idea about a future career, encourage them to think about:
Which subjects they really enjoy – if they are interested in a subject, they're more likely to apply themselves and do well.
Which subjects they are good at – getting good GCSE grades will give them more choices for their education post-16
Which subjects suit their learning style – for example, history involves a lot of reading and writing, while other subjects, such as art or sciences, can be more hands-on.
Whether they might like to study languages or work abroad in future, in which case they could take language options.
Looking at the course material together will help your child to make informed choices. Reading about the different subjects might also spark their interest in particular subjects (or not), helping to confirm their ideas about what they want to do next.
Personalities and pressure
Encourage your child to focus on the subjects themselves, rather than:
Whether or not they like the teacher who will be taking a particular subject
Which options their friends are doing.
After all, teaching staff can change and not all friendships last forever!
Know what you want to do in the future.
---
Some careers such as being an architect, a vet or working with languages may require specific degree courses.
In this case, work backwards - to get into these degree courses you may need specific A levels/Level 3 qualifications, and to do these you may need certain GCSE subjects and grades.
Check out what GCSE/A level subjects and grades you need for particular degree courses on UCAS.
It's important to consider what type of careers you may be interested to access in the future as certain schools/colleges may not consider BTEC or T-Level qualifications if you want to progress onto A-Levels, which would then limit your options of University study later on.