Student Finance Changes
Key changes to Student Finance
The government have announced that there will be changes to Student Finance, affecting those hoping to attend university in September 2023. The repayments are set to rise in 2023/24. The current cap for repayments will drop from £27,295 to £25,000. This means that graduates are likely to start paying off their student loan sooner than previous graduates, but what else has changed? 
Loans will now be payed off over a period of 40 years, rather than the current amount of 30 years
The interest rate on Student Loans will be cut, this will only include RPI, whereas it currently includes RPI + a percentage up to 3%.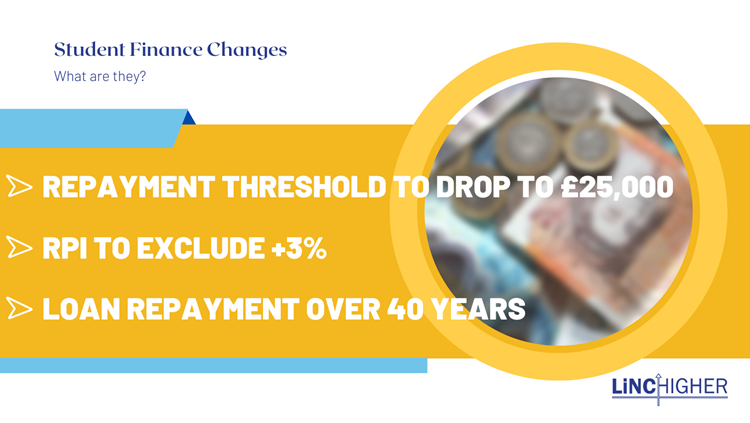 Key things to remember include:
You do not start to repay your student loan until the April after you graduate from your studies, if at this time, you are still not earning over £25,000, you will not begin to repay your loan. When you do begin to repay your loan, you will only repay on the amount over the threshold you earn. 
Student loans are not the same as other loans. With student finance your repayments are based on your earnings, and not the amount that you owe. 
There are jobs which will require you to have a degree or other relevant qualification. Graduates are more likely to earn more than their non-graduate counterparts, and will often be able to enter the workplace at a higher level. 
If you want to read a thorough explanation of the changes to Student Finance, as well as what to expect with Applications and Repayments, then read our Student Finance Guidance below:
---
For more news like this, check out our news section.