Teacher Information
Here you can see the information available for your students when considering their Post-16 Options.
Their choices at this stage should both be informed by their progress through GCSE level study, and work for the benefit of their Post-18 choices. For university study, it will be important for students to consider if they will need to take subjects as pre-requisites for course they may wish to study at degree level, so ensure that they are supported in this decision making.
What are my options at 16?
---
There is a wide range of possibilities for Post-16 education and training – some more academic, others focusing on work-related skills and knowledge.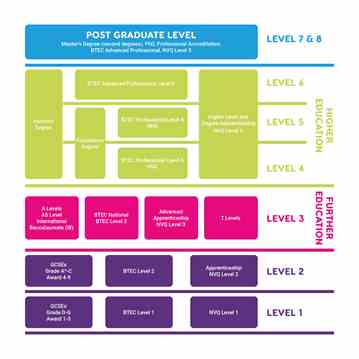 Qualifications at Level 3 and above can be more easily broken down into academic and vocational pathways. Its worthwhile taking the time to research & understand the benefits of different pathways available to you.