Week 44
Clearing opens!
Clearing for 2023 entry is open!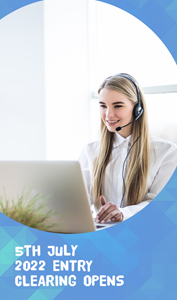 weeks To
Higher Education
Clearing is how unis and colleges fill any places they still have on their courses. From 5 July – 17 October, you can apply for a course using Clearing if you're not already holding an offer from a university or college, and the course still has places.
You can use Clearing if:
you're applying after 30 June
you didn't receive any offers (or none you wanted to accept)
you didn't meet the conditions of your offers
you've paid the multiple choice application fee of £27.00
you've declined your firm place using the 'decline my place' button in your application
For more information click here.