Week 9
CV and Interview Techniques
Whether you are going straight into work or studying higher education, you are going to need a CV!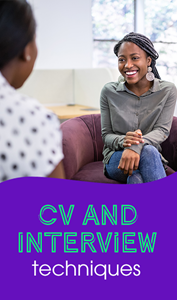 weeks To
Higher Education
This might be for job applications for a permanent role or maybe for a part time job to supplement your income whilst you study, having a great CV is a way to set yourself apart and bag that job!
There are some dos and don'ts on how to create a great CV and some layouts that you should consider before you start.
You may also be wondering whether in this digital world we live in, do you still need a CV? Don't you apply online for jobs now? Yes - some companies may ask you to complete their online application form, but there will be some sections that will be just the same as in a CV so it's definitely worth pulling all of the information together in a CV, no matter what the application process!
Your task this week is to write your CV!
Head over to the Future Focus here to look at the useful information provided by National Careers Service before you start to write your own CV.