Week 8
Focus on Apprenticeships
We've talked about university and college in your tasks so far, but have you considered an Apprenticeship?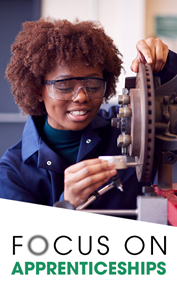 weeks To
Higher Education
Apprenticeships combine practical training in a job with study.
 As an apprentice you'll:
be an employee earning a wage and getting holiday pay
work alongside experienced staff
gain job-specific skills
get time for training and study related to your role (at least 20% of your normal working hours).
Apprenticeships take 1 to 5 years to complete depending on their level.
The variety of apprenticeships may be surprising and you can study at different levels in different industries and sectors.
Start by heading over to: https://www.findapprenticeship.service.gov.uk/apprenticeshipsearch
Next, search for the apprenticeships available within 20 miles of your home postcode
How many apprenticeships are there?
What industries are they in?
What level are they at?
Were you surprised by anything that you found during this search?
For some extra inspiration on apprenticeships, we worked with four recent apprentices to share their stories with you.