Week 4
Getting started with your personal statement
By now, you will have realised that a personal statement is a vital component in your UCAS application, but did you also realise that you may need a strong personal statement for your CV, job applications or other applications that you may be making in the future?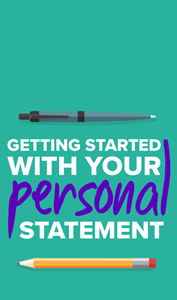 weeks To
Higher Education
If you haven't written your personal statement yet, now is the time to start!
If you have a personal statement already, this is your opportunity to review it and see if there is any way that it could be improved.
There's loads of support and advice out there to help you create a fantastic personal statement, including the following. Take a look at these tips and assess if your personal statement already meets these criteria, or if you've not yet started, use these to guide your writing! 
Your task for this week could also include our webinar on Personal Statements. Watch the video below to start getting some ideas about how to plan the content for your Personal Statement.