Week 35
Good luck with your A-Levels!
It's coming up to a very important time of the year... A-Levels. So we want to wish you all a big good luck! It's time to put all that hard work into action, you've got this!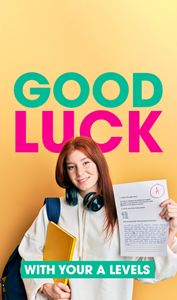 weeks To
Higher Education
This week for your task, we're directing you to a useful resource on BBC Bitesize Exam Support which offers handy tips and advice for keeping on top of your studies during exam time.
Some of these include dealing with stress, looking after yourself, exam essentials and memory tips and tricks. Find the link at BBC Bitesize Exam Support.