Week 5
Higher Education Open Days
There's nothing like an open day to get a feel for what a university or college might be like.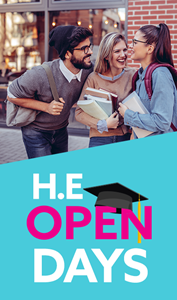 weeks To
Higher Education
If university or college is the route for you, you'll be spending a lot of time in a new town or city so it's important that you feel comfortable with your surroundings.
An open day is a great opportunity to learn more about campus and see what it might be like to study there. You'll have the opportunity to speak to current students and staff and see some of the accommodation that you might be living in and the facilities that the institution has to offer.
We've created a video guide on how to get the most out of an open day so your task this week is to watch our video!
Your task this week is to watch our helpful guide on making the most of a HE open day.