Week 42
It's time to explore student services!
Time to explore the student services available at your chosen university!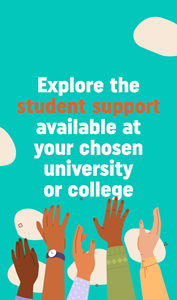 weeks To
Higher Education
Student support and services contribute to the quality of their learning experience and their academic success. Studies show that the most important factors in your time in education are the quality of teaching and learning and service systems and support for students. This shows the importance of support activities for you as a student and is why you should explore what's on offer at your university of choice.
Student support can help with; mental health support, funding and financial support, career support, study support and even faith and spiritual support. They can offer you academic support which are programs and strategies that are used to increase academic achievement. A wide variety of strategies have been developed to provide extra support to students- so it's worth taking advantage of!
Student wellbeing teams can offer high levels of support to their students. They can help motivate you with your work or even help you set clear tasks for yourself and organise your objectives in a manageable way. They offer support and can help you manage your tasks if you're feeling overwhelmed or a little down.
Your task this week is to explore the student support available at your chosen university! See what they have to offer and how you could make use of those resources that you will have on offer.