Week 34
Societies and Clubs
Time to check out the societies and clubs on offer at your university of interest!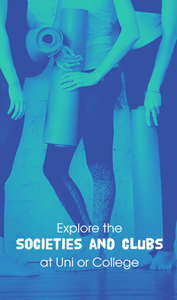 weeks To
Higher Education
Societies are student groups that meet to take part in an activity or shared interest. No matter what you are interested in, you're likely to find a university society to suit you. Some are mainly about socialising with like-minded people, while others are about, for example, playing certain sports, taking part in activities, sharing hobbies, or helping the wider community. What's certain is that they're a great way to meet new people outside of your course and your university halls!
Societies normally meet once a week or on a regular basis. Usually, meetings involve some sort of related activity and the occasional social event. Signing up for societies doesn't mean you're obliged to become a member, but you'll receive emails about upcoming events and meetings which may be of interest.
Some examples of the types of societies you may encounter are sports societies such as football, cheerleading, dance and cycling. Academic societies such as bio-veterinary, business, creative advertising, or midwifery. Or others such as feminism, music and jamming, match of the day or even a Harry Potter society! As you can see societies and clubs range from all different things, and some unique ones you'd never even realise could be one!
So, your task this week is to check out the societies and clubs on offer at your university of interest and decide if there are any that stick out to you. If there's none that catches your eye, you could always think about creating your own! Societies are always really eager to have new members and want to hear your input, so don't be afraid to voice it!