Week 52
Start packing your bags!
It's a simple one for the last week of our 52 week plan. If uni was the route that you chose, it's time to get packing! Think about everything that you'll need!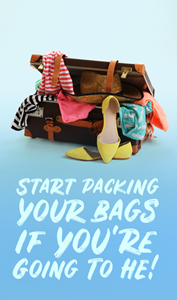 weeks To
Higher Education
No matter how good of a packer you are, it always takes longer than you expect! It's a good idea to start a few weeks before your moving day, so you can make sure you have everything you need. This way, you've still got enough time to make a late dash to grab anything you have forgotten. If you go back to Week 47 of our 52 Week Plan, we have a university shopping list to guide you through the essentials that you will need when moving to university. University rooms come in all shapes and sizes and unfortunately, this means that there aren't many storage options. For this reason, Storage boxes are a necessity when moving, so make sure you have plenty! 
It's completely normal to feel a mixture of emotions in the few weeks leading up to your moving day. Most students say they feel excited, and nervous and don't know what to expect about their new journey. All of these emotions are part of your journey but to make things easier we've got together some tips on how to manage and ease the transition. If you're feeling particularly anxious about the move and are struggling to cope with the anxiety, you can refer to Week 41 of our 52 Week Plan called 'Transition and Well-being' which can offer lots of coping mechanisms for the transition.
For a bit of inspiration, we take a look at our 'Fresh Start' video that we created with staff and students at The University of Lincoln that talks about the transition to Higher Education.
Lastly, we would like to say a big "good luck" on your new adventure!