Week 36
Study Skills
As exam season begins, we've got some top tips on how to develop your study skills!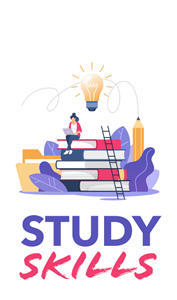 weeks To
Higher Education
Study skills are the skills you need to enable you to study and learn efficiently. Studying successfully is a skill that can be worked on. By reflecting honestly on yourself, you will start to see your study strengths and weaknesses, making you able to develop your own personal approach to study and learn in a way that meets your own individual needs. After a while, it will become clear what works best for you and what doesn't.
Study skills apply not only through your education, but throughout your life as they are transferable skills, they are not specific to a particular subject. You will, of course, need to understand the concepts, theories and ideas surrounding your specific subject area to get the most out of your studies, however, you'll want to develop your study skills overall.
Realising what kind of learner you are is important because once you understand this, you can work on maximising your study technique to the best of your ability. Visual, auditory, kinaesthetic and reading writing are the four types of learning types. Some favour a mixture but most of us fit into one particular category. By identifying this, it will help you when practicing and developing your study skills. By increasing your awareness of how you study, you'll become more confident. Once mastered, study skills will be beneficial throughout your life because they are transferrable skills and you will take them beyond your education into new contexts, study skills relate closely to the type of skills employers look for. 
Your task this week is to watch the video that we have created for you. The workshop will help you understand what kind of learner you are to guide you to develop your study skills, alongside some study tips to help you manage your studies! You can find the video below: