Week 27
Thinking about Careers
We've talked a lot about applying to university or college, but what if you are still undecided about what career you would like to go into?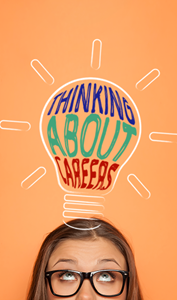 weeks To
Higher Education
What path is best for you? If you have a career in mind, you will no doubt have an idea of the best route to get there. This might be by going on to study Higher Education, taking an apprenticeship or going straight into work.
This week we are going to think about careers. So whether you have your mind made up and you know exactly where you see yourself in a few year's time, or whether you are still unsure about what you would like to do in your working life, we are going to complete a questionnaire to see what careers or jobs your skills and preferences match with.
By taking this quiz created by the National Careers Service, you will answer questions on your skills, motivations and preferences to find roles that might suit you! We're not saying that you will find the career for you but this quiz might give you some ideas about careers that you had never thought about before!