Week 24
Transferable Skills
Transferable skills include cognitive, social and emotional skills. Their development enables the continuation of learning and productivity.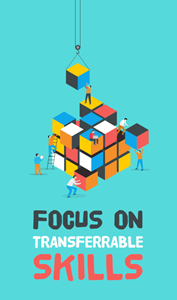 weeks To
Higher Education
What Are Transferable Skills? Transferable skills are abilities and talents which are relevant to a wide range of different jobs and industries that you might be interested in as well as your education pathway. You already have many different transferable skills such as communication, teamwork and initiative. You can develop your transferable skills and use them in your education. In your task this week you will be looking at the transferable skills you already have and how they could help you when thinking about career opportunities after you've finished your education.
In this week's session, your task is to view a workshop created in partnership with John Ambrose from Complete Careers. In the session John encourages you to look at the skills you already have, and shows you how you can transfer these skills in to career ideas.