Week 47
Uni Shopping List
It's time to start planning ahead and gathering your essentials for university... don't worry, we're here to help!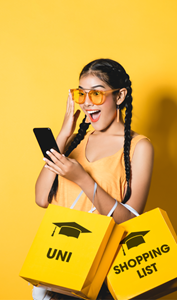 weeks To
Higher Education
Packing for university can feel overwhelming, which is why we want to ease some stress for you by starting off you list of essentials for some guidance!
Bedroom-
Duvet, duvet cover, sheets (take a few of each)
Pillows, pillow case
Decorations to make you feel more at home- Things that hang on door handles, photo frames, candles, fairy lights etc (If you're allowed them...)
Photos and blu-tac
Scissors and Sellotape 
 Laptop, phone, chargers, camera
Books, films, speakers
Purse, cards, ID, passport, important documents etc
Bags 
Posters to brighten up your bedroom
Clothes (and coat hangers)- suitable for winter and summer! 
Clothes horse and basket
Stationery and books
Bathroom-
Shampoo, conditioner, shower gel, shavers etc
Toothbrush
Toothpaste and holder
Soap
Toilet cleaner, bleach, toilet brush
Towels 
Toilet rolls
Kitchen- some halls provide certain appliances, so make sure you check what you get before you go!
Mugs
Pans 
Chopping boards
Cutlery, sharp knives
Plates, bowls, side plates etc
Bin bags, sandwich bags, foil, cling film, tea towels
Wooden spoons, pizza cutters
Baking trays
Tuppaware
Writing a list helps to organise your thoughts, so creating a checklist of what to take to university is a smart move. So your task this week is to try start writing down everything you use on a daily basis over the course of a week - you'll be surprised to find that this is a good method of identifying the mundane items you probably would have forgotten!