Gain the skills you need for the job you want
Whether you are preparing for a part time job whilst your still studying, or you are looking for a full time job or career at 16 or 18, we have developed these modules to help and support you in in gaining the confidence and skills you need in your job search and future career.
The modules are broken into five sections. Go through each module, making sure you read the resource sheets and watch the videos. Make sure to make notes in a book or journal to help you understand the material, and to take notes of any information that is important in your research later on. 
Module 1: All about you 
Module 2: Which job is right for you? 
Module 3: Personal Skills 
Module 4: Applying for jobs 
Module 5: Interviews and Assessments 
Module 1: All about you
Let's take some time now to learn more about your skills, strengths, motivations and where you see yourself in the future. 
 
In this module you will: 
 Identify what motivates you 
 Learn how to build your confidence 
 Set short term and long term goals 
Confidence
The Secret of Confidence: If you want to take control and perform to your potential, this is the place for you. Welcome to The Performance Room. This is the place where you can learn how to perform, whatever your role, whatever your arena. Where you can be the best version of yourself, any day you choose and when it matters most. 
Motivation
Watch this webinar from Luke, helping you reflect on yourself, what your dreams and aspirations are, and what are your qualities and beliefs – to help motivate you as you move on through your education.
Setting Goals 
Setting realistic goals is important to ensure that we will be able to achieve the outcomes we want, so being honest with ourselves is important.
If you want to learn more about yourself and the kind of personality you have, check out 16 Personalities! 
Module 2: Which job is right for you?
Finding a job that's the right fit can be challenging! Use the Career Radar tool to find out which jobs match your skills and interests and learn more about popular jobs by exploring different job sector. UCAS also have a fun quiz you can take to find jobs that are suited to you. 
You can search for information on specific sectors and jobs on the
You can learn more about Lincolnshire's job market and growth sectors on the World of Work website. 
Once you have explored some jobs and seen where your skills are suited, it's time to start planning. Fill out a quick action plan, so you can start making a plan to get where you want to be. 
What is your plan?
Module 3: Personal Skills
Your values and skills make up who you are. Complete the activities in this module to build the skills employers want and understand how to use these skills to help you secure a job. 
Introduction 
We surveyed a group of employers to find out what they wanted applicants to have. Previous work experience and good qualifications from school were NOT top of the list. Here are the things they really want from you.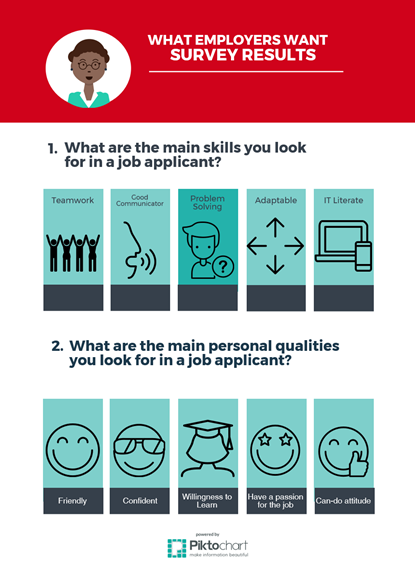 When you're applying for a job, it can be hard to know if you have the right skills.
There are lots of things employers want you to have and often these are not qualifications or relevant experience. 
Here are some of the top skills employers are looking for - which ones do you have? 
Reliability 
Teamwork 
Managing Feelings, Being Resilient
Communication
Module 4: Applying for jobs
Your values and skills make up who you are. Finding a job that fits in with what you like and what you're good at will help you to succeed in your career. 
This module will help you use your skills and values to stand out in your job applications, CV and cover letter, as well as how social media can help you get a job. 
CV
Cover Letters
Top Tips
Module 5: Interviews and Assessments
So, you've applied for a job and employers are interested in you. What's next? 
Yes, it's time for the interview.
Interview skills will support you all the way through your life, both professionally and personally. If you are 16 or 18 and decided that Higher Education wasn't for you at this time, interview skills will make sure your prepared if you ever decided to go back into part or full time education later on.
Use the tools in this module to help you prepare for interviews and then practice with someone you know.  
Preparing for Interviews and Assessments
Guidance on Interview Skills
Practicing your Interview Skills
Labour Market Information
Employability Skills
Work Experience and Employment Law
From Here to Career 
52 Week Plan 
Wellbeing Toolkit